JUANITA DU PLESSIS
Barnyard Theatre
64 Jones Rd, O.R. Tambo, Kempton Park, 1627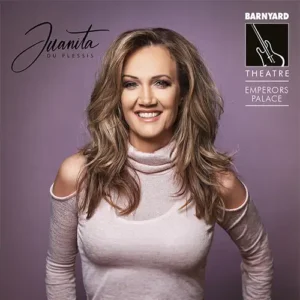 The brightest star on the South African music scene is our very own "Platinum Princess". Juanita du Plessis, she will be performing her 20 years of Hits show at The Barnyard Theatre Emperors Palace. Juanita has long been crowned as one of South Africa's top Afrikaans female artist.
She currently boasts 22 albums and 7 DVDs, each of which has achieved gold or platinum status. She also won several CMA, Huisgenoot Tempo, Ghoema and SAMA awards between 1997 and 2018. Her highlights include her SAMA for best pop album and best seller for the album, Engel Van My Hart because she herself was the director of the entire album as well as her Ghoema Diamant Award for best Afrikaans seller in the history of South Africa.
Juanita du Plessis' career speaks of illustrious achievements, precious milestones, humility and dedication, and the awards to her credit surpass those of most artists in South Africa.
Disclaimer: The Barnyard Theatre reserves the right to change any shows, dates, prices, cast members & show content without notice.

Scan QR Code

For bookings, contact The Barnyard Theatre Emperors Palace on 011 928 1108 or book online.
Information on all our current events and promotions. Find out more by clicking the event image.
64 Jones Road, Kempton Park, South Africa
EMPERORS PALACE, THE PALACE OF DREAMS IS OPEN 24 HOURS A DAY 365 DAYS A YEAR