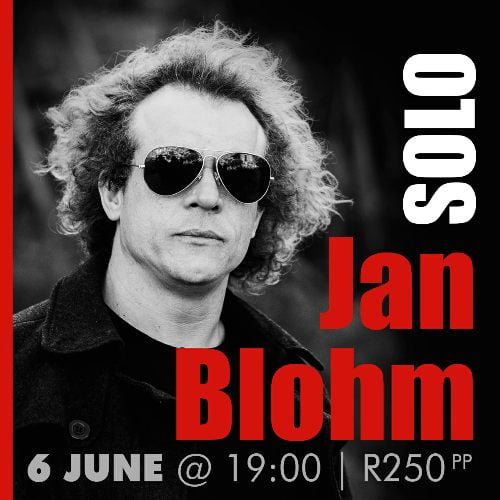 Jan Blohm Solo
6 JUNE, BARNYARD THEATRE EMPERORS PALACE
TRAVEL WITH JAN BLOHM THROUGH 20 YEARS OF HITS, FOR ONE NIGHT ONLY
Jan Blohm's debut album, which appeared in 2004, Melkstraat Confession, turned the rock world on its head after he stole the spotlight with 'Album of the Year' in 2005 at the GMT Awards. Breyten's letter was then named song of the year and Jan as "Best Newcomer". Afterwards, Jan ventured into his career barefoot with highs and lows, but today stands undefeated with the flag in hand on the top of the mountain as the king of Afrikaans Rock.
A musical circle that began with frustrations, opposition, without understanding and hope, has today been completed with self-acceptance and pride. Come and travel with Jan Blohm for one night at Emperors Palace Barnyard Theatre through 20 years of hits and new material in a show that will entertain and amaze you from start to finish.
6 June | 19h00
Barnyard Theatre
Tickets R250pp
Contact: The Barnyard Theatre Emperors Palace on 011 928 1108 or book online.
Disclaimer: The Barnyard Theatre reserves the right to change any shows, dates, prices, cast members & show content without notice.
Information on all our current events and promotions. Find out more by clicking the event image.
64 Jones Road, Kempton Park, South Africa
EMPERORS PALACE, THE PALACE OF DREAMS IS OPEN 24 HOURS A DAY 365 DAYS A YEAR