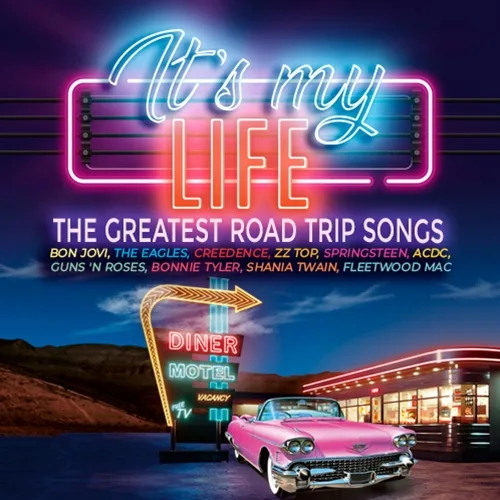 It's My Life
18 Mar – 11 Jun, Barnyard Theatre Emperors Palace
The Greatest Road Trip Play List
The Greatest Road Trip Play List
Nothing gets the heart racing quite like a good rock and roll playlist on the open road. It's My Life features a classic line-up of rock anthems, ballads, and country rock, featuring a 5-piece rocking live band and 4 singers performing music from the '60s '70s, 80s, and 90s- ideal for a great night out!
The show pays tribute to legendary musicians and bands including Creedence Clearwater Revival, The Doobie Brothers, Bruce Springsteen, and west coast bands Fleetwood Mac and The Eagles. There are also tributes to rock groups like ZZ Top, ACDC, Bon Jovi, and Guns 'n Roses as well as rock divas such as Bonnie Tyler, and Shania Twain. There are also a few unexpected tributes to Roxette, Cher, John Cougar Mellencamp, Heart, and the timeless song Shallow from the film A Star is Born, which was first sung by Lady Gaga and Bradley Cooper. Let's not overlook Lynyrd Skynyrd's Sweet Home Alabama, the ultimate rock classic.
It's My Life will take you on a roller coaster nostalgic music ride, making for an unforgettable Barnyard Show experience. So, turn up the volume, get up and dance and shout it out loud – ITS MY LIFE!
18 March to 11 June 2023
Thu (19:00) – R195pp Buy 1 Ticket Get 1 FREE
Fri (19:00) to Saturday (19:00) – R195pp
Sunday (14:00) – R175pp Kids U12 Free & Pensioners, 50% OFF tickets
*Exclusive Winners Circle Members Discounts
Contact: The Barnyard Theatre Emperors Palace on 011 928 1108 or book online
Terms & Conditions:
*The Barnyard Theatre reserves the right to change any shows, dates, prices, cast members & show content without notice.
*Specials may not be used in conjunction with one another or other discounts.
Information on all our current events and promotions. Find out more by clicking the event image.
64 Jones Road, Kempton Park, South Africa
EMPERORS PALACE, THE PALACE OF DREAMS IS OPEN 24 HOURS A DAY 365 DAYS A YEAR