Juan Boucher
Barnyard Theatre
64 Jones Rd, O.R. Tambo, Kempton Park, 1627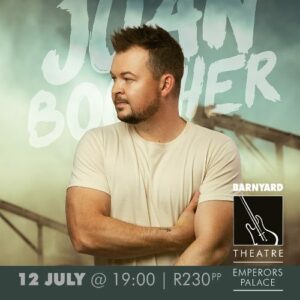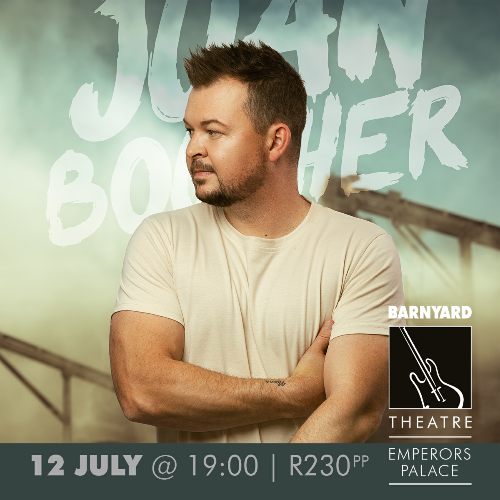 Juan Boucher is an Award-winning South African Singer and Songwriter with over 13 million views and streams worldwide. His latest album Release 'Hier waar ek nou is' produced numerous nr.1 radio hits and has recently been nominated for a SAMA (South-African Music Awards) in the Beste Pop Album category. Juan Boucher is a versatile musician and songwriter, who has worked hard to secure himself a spot in the local music industry over the past couple of years. This talented star, from the Vaal Triangle, made his debut in 2012 with the hit '082'.
 The singer, who won a Ghoema Award in 2017, is known for his upbeat music and has a knack for creating songs that audiences of all ages can relate to. It, therefore, comes as no surprise that he has already released various successful albums and numerous chart-topping radio hits of which 'Dis Wie ek Is' and 'Onthou Jy om Jonk' achieved gold and 'Kalm Voor Die Storm' reached platinum status. Juan is also the proud owner of his own fashion label, Bouch Clothing, which caters for those who prefer looking just as stylish in the bush as they do in the city.
Tickets R230pp
Disclaimer:The Barnyard Theatre reserves the right to change any shows, dates, prices, cast members & show content without notice. 
Scan QR Code
Contact: The Barnyard Theatre Emperors Palace on 011 928 1108 or book online.
Information on all our current events and promotions. Find out more by clicking the event image.
64 Jones Road, Kempton Park, South Africa
EMPERORS PALACE, THE PALACE OF DREAMS IS OPEN 24 HOURS A DAY 365 DAYS A YEAR