FLUWEEL
Theatre of Marcellus
64 Jones Rd, O.R. Tambo, Kempton Park, 1627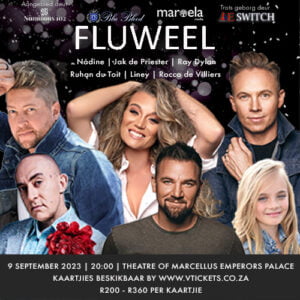 Na die wegholsukses van die eerste Fluweel extravaganza in 2022 is
AE Switch en Numinous 102 gereed om die dak weer te lig met die Fluweel 2023 konsert. Die nuutste Fluweel aanbieding bring vyf van Suid-Afrikaanse se mees bekende musiek-talente saam op een verhoog en stel ons ook voor aan 'n splinternuwe jong stem vir wie daar nog reuse suksesse voorlê.
Nàdine, Jak de Priester, Ruhan du Toit en Ray Dylan saam op een verhoog en word die publiek voorgestel aan die jong Liney van Ellisras wat op 11-jarige ouderdom gereed is om haar stem die land en musiekbedryf te laat verower.Tickets from R200
Book at VTickets
Scan QR Code

Information on all our current events and promotions. Find out more by clicking the event image.
64 Jones Road, Kempton Park, South Africa
EMPERORS PALACE, THE PALACE OF DREAMS IS OPEN 24 HOURS A DAY 365 DAYS A YEAR