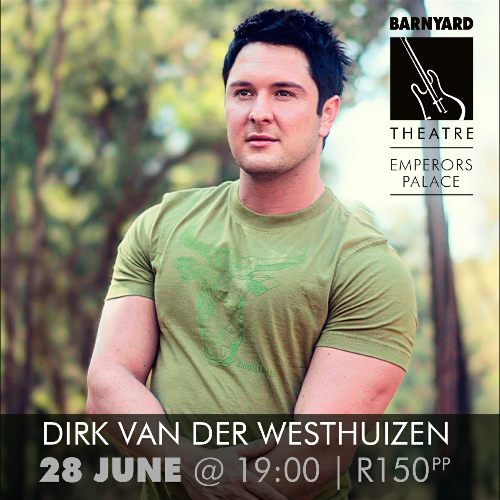 Dirk Van der Westhuizen
28 JUNE, BARNYARD THEATRE EMPERORS PALACE
"Bietjie Lekkerder" is Dirk's brand-new album which was released on March 4, 2022. With a full album, everything is a little more enjoyable.
The album has some distinctive sounds, from a little country music to "Slap House beats" to delicious "sokkie" music. This album indeed contains something for everyone! "With every album, it feels like I only found myself for the first time, and as I look back, I realize it's just a growth process every time", says Dirk, "With the new album I had so much fun and just decided not to take anything too seriously. I just wrote, about everything. I did not think too hard and took my time with each song."
28 June 2023 | 19h00
Barnyard Theatre
Tickets R150pp
Contact: The Barnyard Theatre Emperors Palace on 011 928 1108 or book online.
Disclaimer: The Barnyard Theatre reserves the right to change any shows, dates, prices, cast members & show content without notice.
Information on all our current events and promotions. Find out more by clicking the event image.
64 Jones Road, Kempton Park, South Africa
EMPERORS PALACE, THE PALACE OF DREAMS IS OPEN 24 HOURS A DAY 365 DAYS A YEAR